We invite you to contribute a talk or a poster in any of the above area. The anticipated duration of contributed talks is 20 minutes.

We also encourage the participants of the conference, especially our more senior colleagues, to consider organizing a minisymposium on a subject of current interest. Ideally, a minisymposium should consist of six or twelve speakers. The anticipated duration of minisymposium talks is 20 minutes. If you are open to the idea of organizing a minisymposium, please click here for instructions on how to submit a proposal. The deadline for doing so is March 15, 2011.

To be included in the scientific program of the conference, you must register online and we must receive a payment from you by May 1, 2011. If you would like to attend the conference, but do not plan to give a presentation, we also encourage you to register so as to take advantage of a discounted registration fee.

To learn more about the conference, please explore the links in the menu on the left.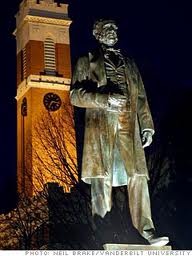 Statue of Cornelius Vanderbilt